AssuredE-cycling is an all-in-one e-waste processing and recycling company that also provides sensitive data removal from devices that enter the recycling system. We acquire previously used portable electronic devices such as cell phones, tablets, and laptops. We remove sensitive data when possible and then recycle them responsibly.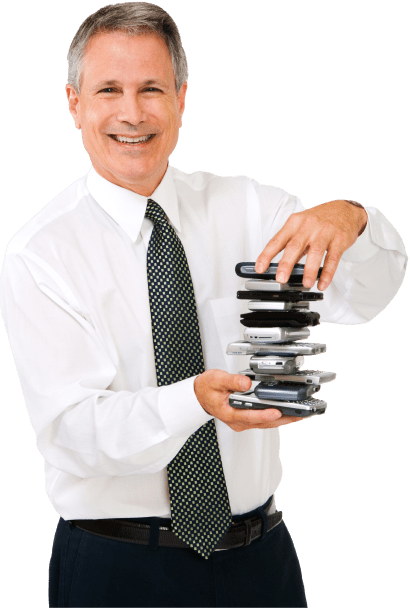 1.

Our Convenient Process Starts
 ……Letting us know that you have devices to recycle. The best way to do this is to use our Contact Form on the Recycle Now page. You may also call, text, or email us. 
2.

determine the best method
We will then determine the best method for securely recycling your specific device or devices. We will communicate this to you and set up the logistics. This step may be as simple as an email or text, or may involve direct communication if sensitive data needs to be removed. 
We will then determine the best route for physically collecting the device, and provide instructions. Once we have the device we confirm deletion of sensitive data, then place it in the most appropriate recycling stream. 
AssuredE-cycling is an innovative company that specializes in the recycling of portable electronic devices (Cell Phones, Tablets and Laptops). Founded in 2018, we developed a unique, effective process of portable electronic recycling that better meets the needs of the public. Specifically, AssuredE-cycling provides a more convenient, more reliable and more secure way to get portable electronic devices into the recycling stream, and out of the landfill.  We are unique in that we are one of the only large-scale device recyclers that focuses on the removal of Americans sensitive data from the devices as a first step. We believe that sensitive data and convenience have been a major hindrance to many devices making it to the recycling stream. 
At AssuredE-cycling, our primary mission is to reduce the amount of portable electronic waste that ends up in American landfills. We attain this by providing a more consistent, more reliable, more secure system that builds trust and ease into electronic recycling.
AssuredE-cycling is now growing rapidly to expand our solutions to the world-wide recycling system. We will continue to work with individuals, organizations, companies, and government entities to meet electronic recycling needs around the globe.
AssuredE-cycling Statistics

 Pounds of Devices Recycled!
Organizations and businesses worked with worldwide!